Every year we prepare something special for Salone del Mobile.Milano … This time we presented a new interpretation of the classic Chinoiserie bringing this decorative art on a modern material like glass and leaving the traditional realization on wood practiced by the French cabinet makers in the 18th century.
We started from a Louis XVI model kept in the company's historical archive and we made an exclusive chest of drawers of oriental flavour, using a mix of ancient techniques and fashionable materials.
The decoration of this piece goes through delicate manufacturing stages that make it unique and customizable in the smallest details…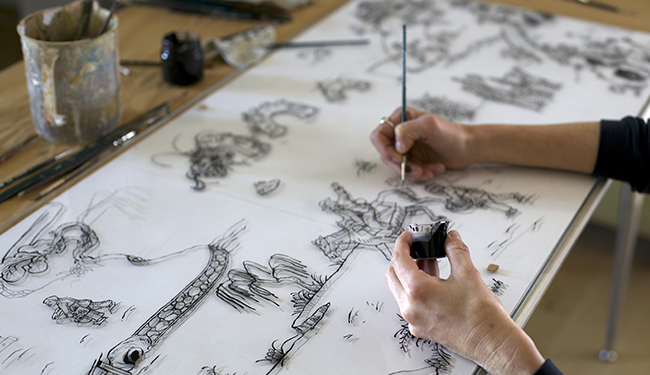 DRAWING ON GLASS
This is the stages that takes the longest and requires the most attention because the glass is painted reversed and the final result appears only at the end of processing, when the glass is turned around. The drawing is placed underneath the glass and traced with a black outline, trying to keep the trait accurate although working the other way round.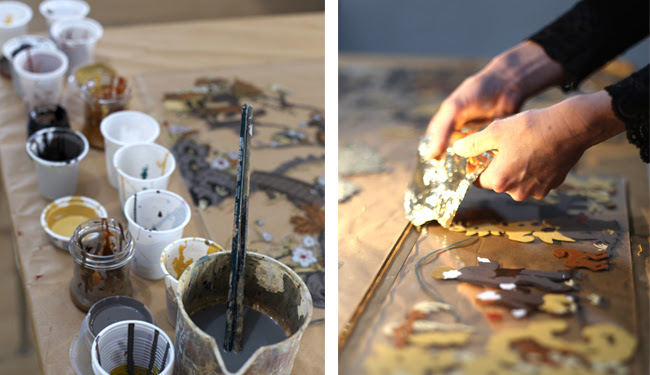 COLORS AND GOLDEN LEAF
The imaginary landscapes, dragon and colorful birds, Chinese pagodas and the human figures which compose the drawing are painted using bicomponent colours for glass painting. The classic hues of Chinese decorative art – brick, ocher and brown – are mixed with accents of red and precious gold leaf in order to give a refined and modern vision of a classic theme.
LACQUERING
The decorated glass panels are sprayed with matt black lacquer in order to fix the drawing and enphasise the details of the scene. Once dry, they are placed on the front, sides, top and drawers of the furniture, made of beech and ash wood.
BRASSES
The precious gilded brass details placed on the drawers come from an original design and are handmade using sand casting. First, a wooden model is made, which the engraver uses to make the lines which characterize the design. Then, the engraved wooden model is used as a master for the mould made of casting sand, a special material into which the molten brass is poured. At the end of the process the mould is broken, in order to extract the brass piece which has the intended shape.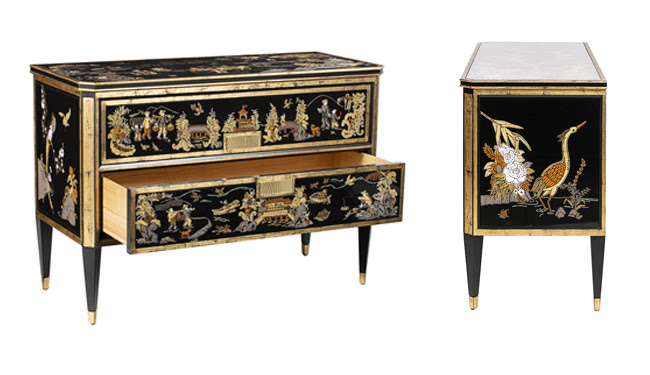 The 18th century's artistic spirit and manual skill live again in the elegant oriental-inspired decorations and in the small details of this new chest of drawers. An exclusive creation which can be placed in different settings, a timeless beauty that can infuse and transform everyday surroundings, leaving behind outmoded distinctions between antique and modern, oriental and Western.