One of our favorite activities is to redesign the pieces that have made the history of furniture from a contemporary perspective and more in line with current tastes and habits of life. This year we focused on the console table, one of the most versatile furniture of French origin in history.
We started from an ancient Louis XVI style model kept in our historical archive and we lightened it of the original gold frills to give it a more modern look. We wanted to preserve the original half-moon shape typical of the first consoles in history and emphasize the decorative function of this piece through meticulous attention to detail.
The construction and decoration of this piece go through delicate manufacturing stages that make it unique and customizable in the smallest details…
THE LEGS
The basic shape of the legs is made by turning. Each single piece takes shape from a solid wood parallelepiped that is engraved and modeled manually with a chisel.The decorations are handcrafted one by one using small templates to draw a trace of the ornament and using chisels of different sizes to create the carved base. The carvings are embellished through the manual application and stripping of gold leaf.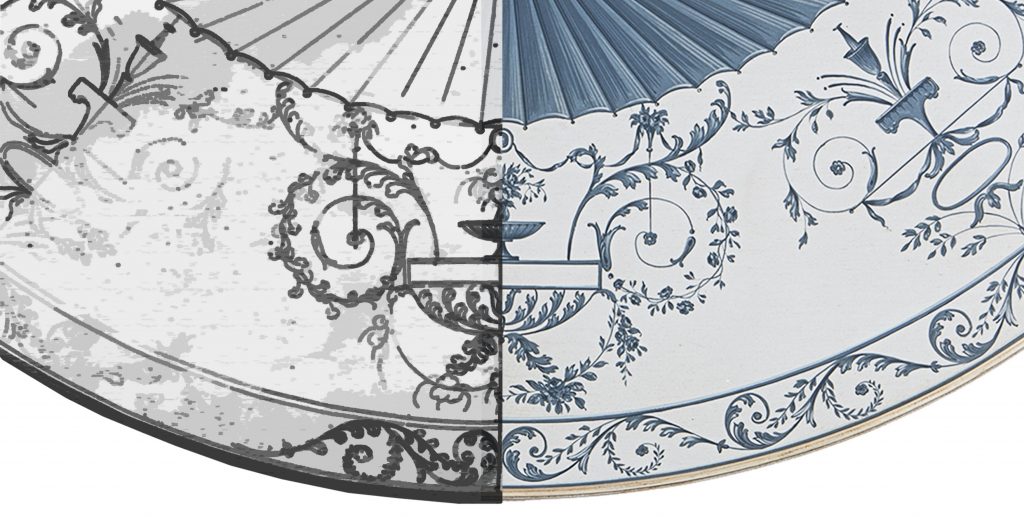 THE TOP
The top, made of wood and not marble as was the case in the 1700s, is entirely hand decorated according to the ancient brush decoration techniques. Refined classic decorations, inspired by nature, develop around a refined fan motif made with different shades of blue and gray.