When we rummage through our archives, we always discover something new about the history of furniture and the tastes of different eras. This time, thanks to the original sketch of an elegant sideboard produced in the early 1900s, we made a leap in the 20s and rediscovered techniques, materials and workmanship typical of those years.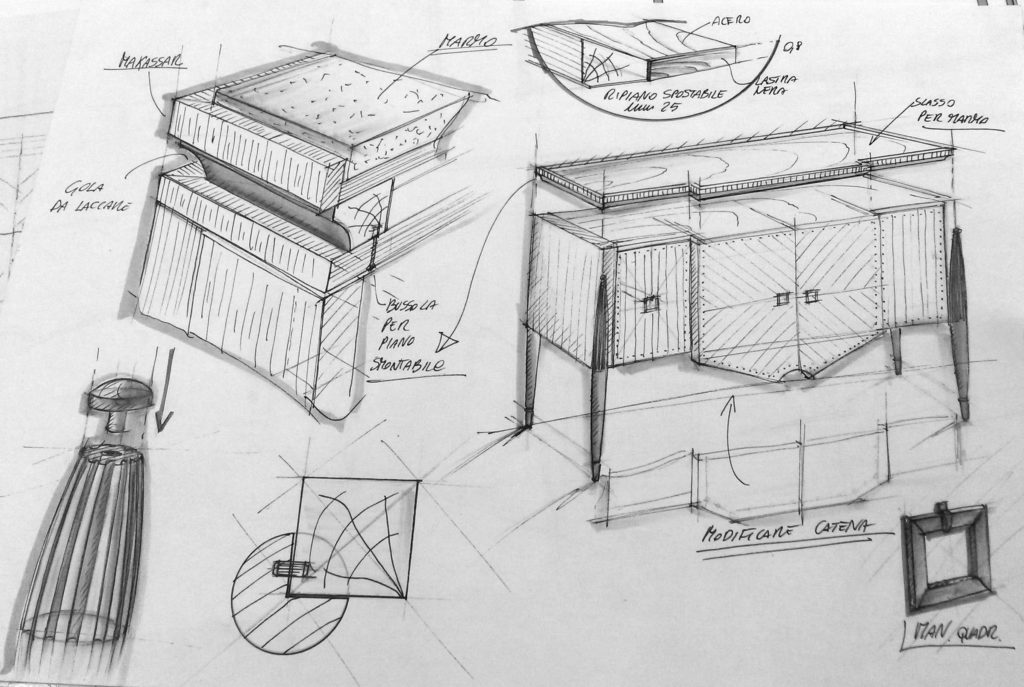 To reproduce this model faithfully it was necessary to do a great deal of research on materials. In order to get the most out of it, we needed slices of different veins of ebony and maple, European marble and sheets of pure white mother of pearl, materials frequently used in the gay yet sophisticated drawing-rooms of the haute bourgeoisie around the end of the First World War as a symbol of rediscovered affluence and modern elegance.
Behind the decoration of this piece, lies all the manual dexterity of our craftsmen. Slices of makassar-wood with different grain patterns were combined and fitted together by hand to create vertical streaking on the side doors and edges and a herring-bone motif on the central doors, inlaid with dots of purest mother-of-pearl.
The characteristic cigar shape of legs have demanded the skills of a number of different craftsmen: the turner, who taked the unshaped billet and gived it the basic cylindrical shape, the shaper who chiselled out the grooves, and the wood-carver who smoothed and hand-finishes the shapes left by chisel and router.
After more than a month's work the result was amazing. A supreme example of cabinet-making in the Modern style with interior of maple wood and decorations in makassar and mother of pearl inspired by simple geometric shapes. A model which is a reflection of its times, and in particular of a society returning to life, longing for opulence and concerned with modernity.